Why You Should Let Your Dentist Whiten Your Teeth
Everyone wants a bright smile they feel confident in, and tooth-whitening technology helps erase stains, discolouration, and natural yellowing. Even if you're not after a perfectly white smile, teeth whitening treatments at 8 West Dental Care can turn back the clock and remove years of stains to refresh your smile.
The drugstore is littered with teeth-whitening products and do-it-yourself methods, but whitening your teeth at the dentist can protect your teeth. Professional whitening from your dentist helps prevent tooth sensitivity and offers visible results faster.
What Causes Tooth Discolouration?
Tooth discoloration comes in 3 types: extrinsic, intrinsic, and age-related.
Extrinsic tooth discolouration only affects the tooth's enamel and is often caused by coffee, tea, wine, tobacco use, or highly pigmented fruits and vegetables.
Intrinsic tooth discolouration refers to staining inside the tooth, resulting from some medications, tooth injury, or too much fluoride.
Age-related discolouration can be caused by a mix of extrinsic and intrinsic factors, resulting in a yellow appearance.
Teeth become discoloured primarily from foods, drinks, and lifestyle habits, and discolouration can appear in various hues, including:
Brown staining is typical in smokers but can also come from tartar buildup, berries, juice, and red wine.
Yellow staining is common among tobacco users, tea and coffee drinkers, those with high sugar diets, or chronic dry mouth.
Depending on the type of discolouration of your teeth—extrinsic, intrinsic, or age-related—and the colour of the staining, your dentist can recommend the best whitening treatment plan for the best results.
Why You Should See Your Dentist for Teeth Whitening
A white smile is a healthy smile, and beyond vanity, having a white smile can improve confidence in your work and personal life and decrease self-consciousness when laughing or smiling. While whitening at home isn't recommended, it's widespread.
At-Home Teeth Whitening Kits
Most people choose at-home, direct-to-consumer whitening products for convenience and affordability and assume that because they're on the store shelves, they're good for you. However, whitening strips, pens, and emulsions cause damage to your teeth.
In store-bought whitening products, the concentrations of peroxide are the same, and they offer general directions on the length of time you should apply the product. However, everyone's teeth and gums are different, and teeth whitening strips have been shown to cause gum irritation and increased tooth sensitivity.
High concentrations of hydrogen peroxide, the whitening agent, can lead to structural damage in the tooth and make your teeth more prone to demineralization. The loss of calcium and minerals in the teeth can affect your oral health.
In-Office Teeth Whitening
The dental team closely monitors whitening treatments at 8 West Dental Care. The peroxide levels and duration of the whitening treatment are designed for the sensitivity of your teeth.
And unlike at-home strips, you don't need weeks of sustained treatments to see results—after your first in-office whitening appointment, you'll notice fewer stains, less discoloration, and a brighter smile before you even walk out the door.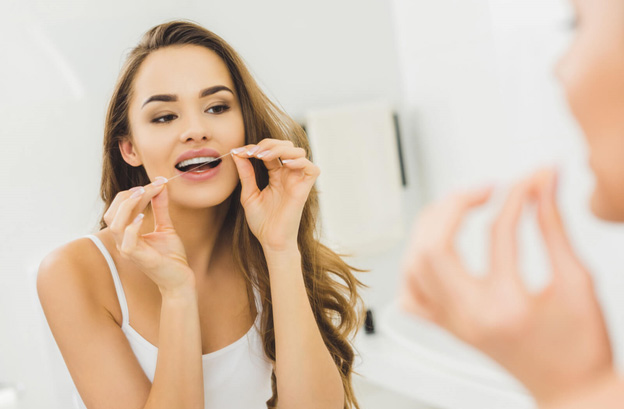 How to Keep Your Teeth White
After your whitening treatment with your dental team, maintaining the results between sessions is essential. At-home whitening remedies often have little evidence to back them up. But some ways to preserve your newly whitened teeth can include:
Brushing with baking soda toothpaste to help reduce surface stains
Daily flossing
Consuming less sugar
Avoiding acidic foods
Drinking with a straw
Seeing your dental team for cleanings
Schedule a regular appointment with your dental hygienist every six months and your dentist annually so we can monitor the health of your enamel.
Get a Sparkling Smile at 8 West Dental Care
Don't cut corners on your teeth whitening treatment. Book an appointment for a dental exam to discuss your oral care, assess your staining, and learn how teeth whitening can help reduce the appearance of stains. Contact us today if you have dental concerns or are due for a preventative dental cleaning.