One of the most dependable and durable methods to replace missing teeth is dental implant surgery. However, because this procedure involves placing an artificial tooth root in the jawbone, pain is almost always a side effect.
Many people are concerned about how much pain they will experience after this procedure before they decide to book an appointment for a dental implant.
Let's look at the full process to understand where you might experience some pain.
THE DENTAL IMPLANT PROCESS
Because dental implants necessitate one or more surgical procedures, you have to undergo a thorough evaluation to prepare for the procedure, which includes the following:
Comprehensive Dental Examination
A comprehensive dental exam helps your dentist have a full view of the condition of your teeth and jaw. You will need dental X-rays and 3D images taken, as well as models of your teeth and jaw scanned.
Examine Your Medical History
Inform your doctor about any medical conditions you have as well as any medications you're taking, including prescription and over-the-counter medications and supplements. Your doctor may prescribe antibiotics before surgery if you have certain heart conditions or orthopedic implants to help prevent infection.
Treatment Strategy
This plan is tailored to your specific situation and takes into account factors such as the number of teeth that need to be replaced as well as the condition of your jawbone and remaining teeth.
Damaged Tooth Removed
Certain dental implant procedures allow damaged teeth to be extracted and replaced immediately with a full arch of fixed natural-looking replacements. However, in most cases, a damaged tooth must be extracted and you have to wait for the area to heal properly before the next step.
Bone Graft
A bone graft is frequently (but not always) used to prepare the area after a patient's natural tooth is removed but before an implant is inserted. These grafts promote the growth of new bone, strengthening the jawbone and assisting in the proper integration of the implant with the bone.
Placing the Implant
Your dentist will numb your mouth with local anaesthesia during this phase. Once the medication has taken effect, they will make an incision in your gum to expose the bone.
They use a drill to create space in the bone for the implant screw after making the incision. The implant is then placed, and depending on the size of your incision, you may receive one or two stitches. Implants are often the same degree of pain as a regular filling.
Preparing for a Dental Crown
Then you wait a few weeks for the implant and bone to fuse together to ensure a secure attachment. When it's healed, you'll proceed to the second stage of the procedure.
During this appointment, your provider will re-examine the implant via a new incision. The abutment will then be attached to the implant, and an impression will be taken to fit a dental crown.
Dental Crown Placement
The crowns require several appointments, which vary depending on the dentist's preferences and the case. You will receive your new crown during the final step. Before the final fit, you may be given a trial procedure to ensure that everything fits perfectly.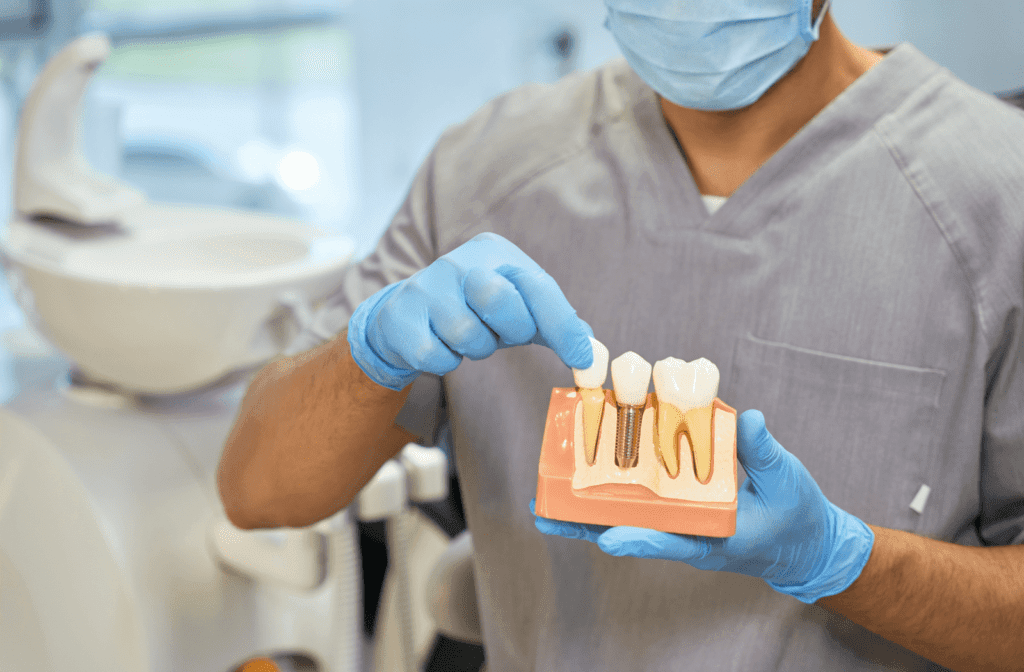 ARE IMPLANTS PAINFUL?
Generally, the procedure is pain-free because it's performed under general or local anaesthesia, which completely numbs the mouth.
When the numbness wears off after dental implantation, you may experience mild pain. Some people who have had the procedure even say it is less painful than a tooth extraction.
Occasionally, people experience significant discomfort following surgery. This discomfort could be caused by an improperly fitted implant or an infection, see your dentist immediately if this happens.
Discomfort can also be felt in the chin, cheeks, or underneath the eyes, depending on where it's placed. Occasionally, people report that the results are well worth it and find that their recovery is not nearly as painful as they anticipated.
HOW TO REDUCE PAIN
The following are a few common methods for minimizing discomfort and maximizing healing after a dental implant:
Following the procedure, strictly follow the post-operative instructions provided by the dentist. Pain relievers such as Advil or Tylenol should be taken as directed, as should antibiotics if prescribed.
Gently rinsing with a warm saltwater solution regularly can kill germs and promote healing.
For the first 10 days, avoid hot, spicy, or crunchy foods to avoid infection.
It's always advisable to practise good oral hygiene.
Brushing gently near the implant sites may help to prevent infection caused by injury.
Using cold compresses as directed will aid in pain relief.
Keep all scheduled dental appointments.
THINK A DENTAL IMPLANT IS RIGHT FOR YOU?
Your smile can be restored and transformed with dental implants. They are, however, a big decision. Because the implant is placed directly into your jawbone, you have to have your entire mouth examined to ensure that the implant won't fail.
Even though it can be a long process with some periods of discomfort or pain they provide a permanent solution to your smile without the drawbacks of bridges or dentures.
If you would like to discuss your options for dental implants, book an appointment with 8 West Dental Care today.